Momma, Daddy and I love watching the Sing-Off. They got me hooked last year, when I loved the Bubs, who now do the back-up vocals for the Warblers on Glee! I am always amazed by these singers and their ability to make the sounds of instruments. Awesome!
This year my fav. group is Committed. Daddy likes them too, but Momma is partial to Street Corner Symphony (she always likes the southern rockers...)
I've got two Sing-Off crushes this season.
1) Ben Folds, who is one of the judges.
He's such a dork and I love it! His comments are always filled with a ton of technical jargon that no one gets, but he still says them anyway, as if to bring some credibility to the show.
Adorablespice.
2)The tall, skinny guy in Committed-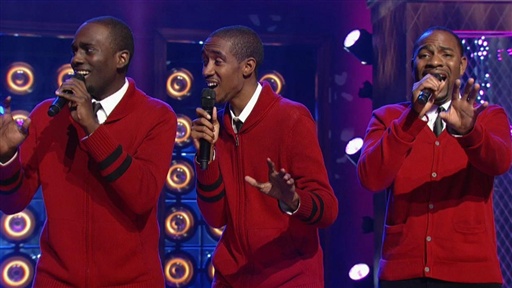 He is in the middle. I love all of these guys because they started off singing in church. They're such sweet Christian guys that are embarrassed doing "sexy" Backstreet Boys dance moves :) And this guy is just the cutest thing ever!!
Here they are doing I Want it That Way
They'd better win!